Audi cars have recently launched a new model in town as Audi R8 V10 Plus which is being provided with an increase of 25 horsepower over a base V10 version. This is now available in U.S. If we compare it with other models of this versions we can say that this is been different from them just because of the carbon fibre reinforced plastic (CFRP).The Audi R8 V10 Plus price given by the company is Rs. 154, 000, 00 which is for the manual version and for the S Tronic version the price is Rs. 205, 000, 00. The Vehicle has V10 engine with a displacement of 5.2L and is featured with a six-speed manual gearbox. It offers a horsepower of 550 HP@8000 Rpm and peak torque of 398 Lbs-ft @ 6500 Rpm. This model in just 3.7 seconds goes from 0-60 Mph for the manual version and if we talk in case of S Tronic version the car just reaches in 3.3 seconds only.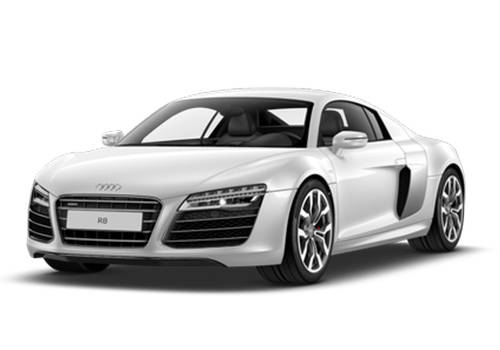 The top speed of the vehicle for the manual version is 193 Mph and for the S Tronic version the top speed is 197 Mph. The Audi R8 V10 Plus features musters of the lining in the engine compartment, lateral air inlets, huge rear diffuser with the LED lights and front splitter. To make this car give luxurious feeling, it is been offered with a new leather-covered multifunction sports steering wheels with an R8 logo and high-quality diamond stitch leather seats. To make it more dynamic and agile, Audi has used adaptable bucket seats with a (GFRP) glass fibre reinforced plastic chassis. The company has reduced the bulk of insulating materials fitted with special light-alloy wheels.
Other than making the it lighter, the company has worked up on the exterior part it also as it has given dual gloss-black round exhaust tailpipe trim sections and matte-black vent louvers near the rear window. If we see the Audi R8 V10 Plus pictures we can say that company has made it more sportier than all other versions of this family. It comes in much different variety of colours as pearl-effect finishes Daytona Gray, solid colours Ibis White and Brilliant Red, and so on. We can say that the R8 V10 Plus is definitely a good addition of R8 model. This car has a plus point that it is more powerful than other of the same model but it is the most expensive one. Audi has also launched 2013 Audi RS5 with some new striking features and wonderful outlook.