Videocon has got good place in the electronic market. Now the company has decided to hit the Asian market with many launches. In that sequence the company has launched the impressive model of the Android version, which is dubbed as Videocon VT 10. This model is said to be so impressive, since the Videocon VT 10 price is said to be very less when compared to the other gadgets with same features. The Videocon VT 10 price will be with the tag of INR 10,999.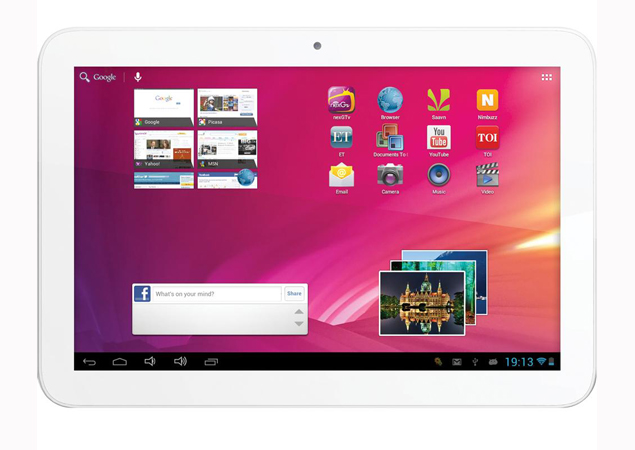 The Videocon VT 10 features out of the box with a 10.1 inches big display. The huge display will give a good look to the model and also good movie watching experience to the user. Thye gadget's display is well featured with multi-touch up to 5 fingers. The gadget will be rolling out into the market by carrying a dimensions of 257.3x176x10.3mm and weighs around 650gm. The gadget is very comfortable to carry with a single hand even it is heavy comparatively with the other gadgets in the tablet segment. There are many web portals where you can have the look of the latest Videocon VT 10 pictures, so you can get a clear view of the model.
This gadget will run on Android 4.1 Jelly Bean and that is one of the USP of this tablet. The device comes with a stock Android on-board. It is also supplied with 1.5 GHz dual-core processor. This processor can handle different processes comfortably and simultaneously. The gadget will also be boosted with 1 GB of RAM which is reasonably very good to handle performance smoothly in synchronization with processor. Which is better than the devices that are rolled out with 512 MB RAM. The gadget is built-in with a flash memory of 8 GB, by which the user can save his required data files. If the memory space is not sufficient for the user, he can extend the memory space by up to 32 GB with the help of the microSD slot fixed to it. Same as Videocon VT-10 tablet, many other are Videocon VT71, VT75C, etc, which support to Android OS.
The gadget will be fixed with a 2 MP shooter in the front and also boost 2 MP rear shooter. The image is quality of the camera is not so impressive when compared to the other gadgets in the tablet segment. The gadget is powered by a Li-Polymer 6800 mAh battery which will promise a browsing time of 4 Hours. The connectivity features like Wi-Fi b/g/n, 3G via external Dongle will also be available for the gadget. By which the consumer can get the access of the internet and surf the social tags and also chat with friends.