It is probably the right time to own a sedan car that too Skoda Rapid because discounts and bundle offers are raining on this device. At present not many companies are offering discount offers on their models but Skoda came up with impressive bundle offers or cash discounts from which, customers can choose in between them. If we just take a look at the bundle offers provided by the company, one of the package include interest on loans at just 5.99 % along with insurance at Re. 1/- plus, exchange/ loyalty bonus. Another package include Re. 1/- insurance and loyalty/ exchange bonus along with bundle of GPS navigation system and Bluetooth module with infotainment support. Not much of companies are offering such a great discounts on its cars but Skoda is far ahead in providing irresistible offers. If the customers are not impressive about these packages, then they would be getting an option to choose in between these offers and a whooping cash discount of Rs. 75,000/-, which is unbelievable. By providing all these attractive offers and discounts, Skoda has sent a clear message to other four wheeler companies that it is not backing down from the competition in Indian markets.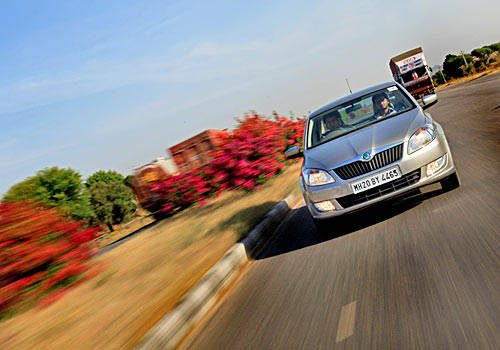 Skoda Rapid is undoubtedly the best choice among Skoda Cars in the present situation not just because of the offers on this car but also because of the impressive Skoda Rapid features, performance and for impressive body design, which we can see in the Skoda Rapid pictures. other reasons. The car is powered by 1.6 liter engine and it is available with petrol and diesel fuel option. The diesel variant can produce 105 Bhp of maximum power and the petrol variants can produce the same 105 Bhp of horse power. However, when it comes to the production of torque power, petrol version produce 153 Nm of peak torque whereas diesel variants produce 250 Nm of peak torque. It is not a compact sedan though but its price is far similar to the compact sedan, which is an advantage of the Skoda Rapid. Skoda Rapid price has now came down to an affordable level thanks to its first birthday in Indian markets that made the company to make it something special with discount offers.
At present the Skoda Rapid price starts at just Rs. 7.05 lakh and with the discounts its price will go down to under Rs. 6.5 lakh, which is unbelievable. Thus, choosing to purchase a Skoda Rapid this season would be the perfect choice for one and all and moreover, it has becoming affordable with cash discounts. Chevrolet Sail hatchback car comes with a starting price tag of just Rs. 4.44 lakh (for base variant), which is very competitive.