The most impatiently expected SUV of this year, Tata Safari Storme, which is being said to launch soon has already created a lot of excitement among the SUV enthusiasts across the country. This new SUV is a sophisticated and revamped version of the older Tata Safari. The earlier version is prevalent on the Indian roads for about 14 years now and is regarded as one of the best SUV cars ever made in the country. Tata Motor Group is renowned for making efficient and performance packed vehicles since a very long time now. The company is expecting Tata Safari Storme to carry on this lineage further and bring in the same or much better response, which has been generated by the previous Tata Safari. The new Tata Safari Storme is expected to be offered with a Price tag of Rs. 10 lakh, but the final price has not been revealed as yet. The older version is priced lesser than this new version, but the newer one has also been packed with some new and advanced features. The earlier version also had many refined features that have made this SUV quite popular across the country as stated in some Tata Safari Reviews.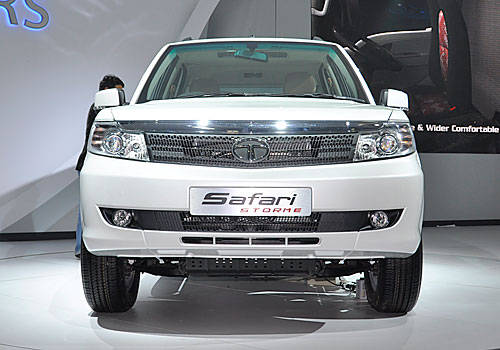 It is said that the wheel base of the new Tata Safari Storme has been increased a bit and is now more comfortable than the existing version. Also, the rear air conditioner vents have been properly fitted and can efficiently cool the entire cabin very quickly. The new version will come with climate control and several other features, which are missing in the earlier version. Quite a few Tata Safari Storme Reviews state that this version will have a new steering wheel with mounted controls for better functionality. It will also come fitted with an advanced CD/MP3 player and a bright and informative instrument cluster, which will also have multi-information display as well as a satellite navigation system. The other addition is a sun roof and also comfortable seats covered with premium upholstery and also a rear wiper. This new Tata Safari Storme has also been incorporated with some of the best in class protective features making it one of the safest SUVs in the market.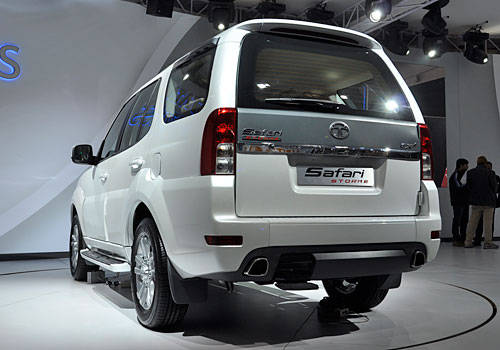 The exteriors have also been changed a lot to bring in some newness with new bumpers and an aggressive radiator grille. The head lamp cluster will now be powered with xenon projector lights with a set of fog lamps integrated in the front bumper. The sides have turn indicators that are fitted in the body colored OVRM's and the neatly carved wheel arches have been fitted with a set of new twin spoke alloy wheels. The rear end has a momentous change with the spare wheel not being on the rear door as in the older version of Tata has been shifted underneath the chassis giving this new version an absolutely dynamic look. The engine seems to be quite similar with no major change in it as of now, but will be equipped with advanced G76 MKII, 5-speed gearbox for smoother gear shifts. With such remarkable and brilliant changes done in this new version, it is certainly going to rule the market very soon after its launch. In the country's car market, quite a few other SUVs such as the New Chevrolet Captiva, Renault Duster, Audi Q3 and Premier Rio Diesel are also going to be launched in the coming weeks, which will definitely shoot up the competition among this segment to a new level. I shared that India Waiting for Audi Q3 Launch and Tata Safari Storme Vs Tata Safari How are They Different?