Today, Hyundai's most awaited hatchback named
Hyundai Eon
is launched. The Hyundai Eon is a small car but, the company introduced it as an A segment car that means the car will offer complete safety. The advance booking of the car have already started from October 1. the Hyundai Eon come in different variants that are Hyundai Eon Era, Hyundai Eon Sportz-Yes, Hyundai Eon D-Lite, Hyundai Eon D-Lite(O), Hyundai Eon Magna. The
Hyundai EON price
in India starts at Rs 2.69 lakh.
See More
Hyundai EON Pictures
Read More on
Hyundai EON
The
Hyundai EON
is affixed with an engine of 814cc, three-cylinder petrol engine, which gives a peak power of 48bhp. Lets have a look on Hyundai Eon specifications, the exteriors of the small car stimulated from the Hyundai i10,but the size of EON is little smaller then i10.the features of Hyundai Eon are some sort similar to Tata Nano and Maruti Alto. The front end of the small car resembles a six plate grille, with this the hexagonal grille seems to be the standard of Hyundai style statement these days. Hyundai Eon has sporty look, as the headlights of hatchback are large with the clamp type bonnet. The back end of the Eon has a crusty look with split and curve pattern and the tail lights are glossy and large which give the car different look from the other hatchbacks.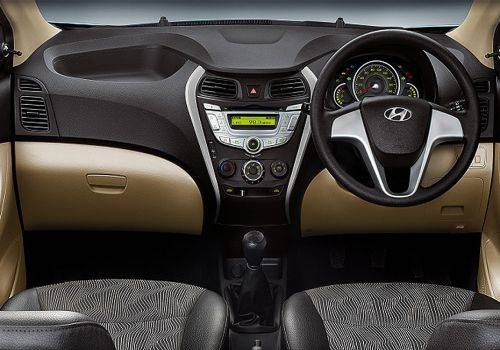 See More
Hyundai EON Pictures
Read More on
Hyundai EON
The interiors of Hyundai Eon are excellent and they will attract you. The car has beige-brown interior with semi- cloth seat trim which gives it a nice look. The hatchback also provides a single- piece folding rear seat which enhance the boot space for luggage.
Hyundai Eon reviews
revels that the small car will attract lots of car buyers because of its features, crunchy look, safety features and the most important factor that is incur price. In this festive season Hyundai will surely get success and do good business in car markets with its new Eon.