Honda Brio was finally ready to become a reality after a long time period of 18 months from 2010 Indian Auto Expo on September 27 this year, but the Indian customers will have to wait for one more day to own the car as the car launch is delayed by a day and now Honda Motors is going to launch it on September 28th . It is rumored that with a sudden increase in demand of diesel cars, Honda India wants to put the price tag very competitively as to cope up with the prevailing rivalry,though there is nothing announced officially. The Honda Brio price is expected to fall around Rs 5 Lakh in India.
See More
Honda Brio Pictures
Read More on
Honda Brio
The newly styled hatchback Honda Brio is expected to be housed with 1.2-liter petrol engine which is taken from Jazz. The petrol engine adorned in the car is capable to produce apex power of 89 Bhp @ 6200 rpm and the peak torque of 110 Nm @ 4800 rpm. By Offering a 1198 cc figured displacement the car goes wonderful in hatchback segment. Its is said that the first hatch back from Honda is going to deliver a excellent mileage, and due to lesser weight then Honda Jazz, the car will be more fuel competent. Based on 2 CV concept the Honda Brio has a superb crease on its body and a forward inclined stance which make consumers to go crazy and enhance the demand extravagantly.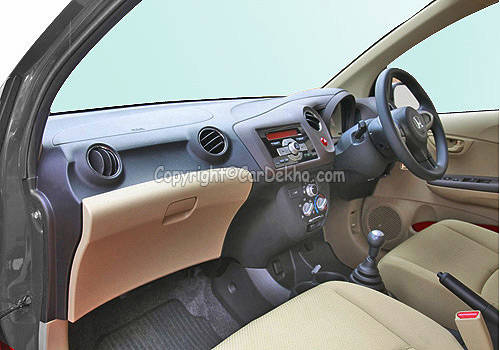 See More
Honda Brio Pictures
Read More on
Honda Brio
Measuring the 3,610 *1,680* 1,485 mm dimension the car offers a large space for 5 adults to sit comfortably along with a decent boot space. The car's rear is the main feature ,as the all rear is made of glass which is making it to go unique in the market. Exteriors of car are giving a different feeling as all the components including wonderfully shaped upper and lower grille and the headlights are truly bringing appeal to vehicle. Windows are shaped this way, that is never seen in market before. If come to the safety features the car offers a long list to appreciate. The car will be blessed with two airbags on front seats to ensure high level safety in case of sudden jerk. Along this ABS, EBD and break assist function are provided there to avoid skidding. Additionally there is full arrangement of entertainment ,as the car is expected to come with high technology speakers and blue tooth connectivity along with USB ports to play music from any source. Well Honda Brio review marks that with all the new stylish looks , the car will be a great hit in the market.